Home
»
National Institute of Open Schooling
National Institute of Open Schooling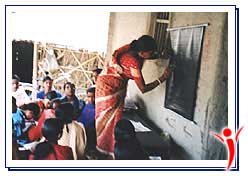 Azad India Foundation believes that meaningful education should be the basic right of all the children and not the privilege of a few. There are thousands of children especially girls who are involved in child labor and denied even basic education. Girls in many rural areas do an enormous amount of work at home and in the fields. Their activities range from carrying water, collect wood for fuel, cook, clean, wash and take care of siblings.

We have been committed to providing all the children who are unable to join the formal education an alternative way so that they do not remain devoid of their fundamental right of education. National Open School is an endeavor of Ministry of Human Resource Development, Govt. of India for distance education. It operates through a network of educational institutes and agencies all over India for the education of out of school children and youth.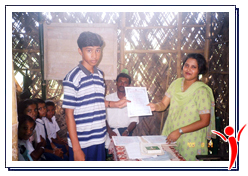 It is providing millions of such children and youth an opportunity to continue their education through open system of learning. Azad India Foundation became OBE centre (open basic education) of National Open School in 2003.For last one year we are providing free education up to class three levels to about 300 children between age-group 6-14 enrolled at our various NFE centers.
We have specially prepared books titled Udaan in Hindi for Maths, Social Studies and Science according to the blueprints provided by NOS and Bihar Govt and CBSE syllabus. We hope to conduct class three examinations in coming months. This programme would bring disadvantaged children at par with the formal education system through nonformal education.
Target Group Rural Children, Working children, School dropouts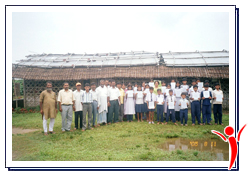 Name of the villages

Nankar

Bharagharia

Maniram Bhitta

Dangibasti

Rasulganj

Haldibari

R.N OBE center
Number of Beneficiaries 300
Nonformal Schooling through National Open School in Kishanganj District, Bihar
Kishanganj
Kishanganj district is situated in the North-East of the state of Bihar bordering Nepal in the North, West Bengal and Bangladesh in the east. It has 7 blocks, one municipal area, two nagar panchyats and 730 revenue villages. The population of the district is 1296348 with decadal growth rate of 31.7%.More than 40% of the population lives below poverty line.


Status of Education in Kishanganj district
The literacy rate of Kishanganj is 31.09%, which is one of the lowest in India. Female literacy rate is as low as 18.63%, which too is one of the lowest in India. Based on Selected Educational Statistics 2002-03 and latest available information, there are 550 Primary Schools, 96 Middle Schools, 35 Secondary/Intermediate/Higher Secondary Schools, 337 Education Guarantee Scheme (EGS) Centres, 154 Alternative and Innovative Education (AIE) Centres and 240 Madarsa in the district. The number of teachers in the Primary Schools is 1038, that in Middle Schools 534, and in Secondary/Intermediate/Higher Secondary Schools 267. The Pupil-Teacher ratio in Primary Schools is 83, whereas it is 76 in Middle Schools. The national norm of having a primary school within 1 KM distance and an upper primary school within 3 KM distance is not being followed in the district. Although Sarva Shiksha Abhiyan (SSA) is operational in since 2002-03, Kishanganj is still facing an unprecedented crisis of having more than 36.57 thousand out of school children.


Nonformal Schooling through NIOS by AIF
Azad India Foundation got affiliated with National Open School for Open Basic Education in 2003. It took almost a year to develop course material based on the guidelines of NIOS and state government text books. With the generous support of Mr Iskandar Laljee Jt.Managing Director of Sud Chemie India Pvt Ltd AIF printed the books. Our main aim is to give at least class- III level of education to those children who have never been to school due to various reasons and then sending them to formal schools. The emphasis is on learning rather clearing the examination. We also decided to make the parents especially mothers functionally literate so that they are able to understand the value of education.
AIF has been following integrated strategy of providing Open basic education with its other projects. With project Sanjivini under Project ARSH (adolescent reproductive and sexual health program) supported by NFI we enrolled 181 children (10-14) 115 girls and 66 boys from 15 villages in 2004. Out of these 112 students appeared for Level A with 69 girls and 43 boys.50 children including 28 girls and 22 boys passed the examination in the first attempt. Since we had trained the health animators to work as teachers and this was our first attempt the response from the community was not very encouraging.
In 2005 we got project from Royal Dutch Embassy for educating rural children under NIOS. We established five rural study centres at villages Damalbari, Powakhali, Pothia, Thakurganj and Chattargach with 449 children enrolled out of which 236 were boys and 213 girls. Girls' enrolment was 47% compared to 52% boys. Under teachers'guidence 201 children passed the Level A with 102 girls and 99 boys.21 children passed in more than 2 subjects. Girls pass percentage was 50.7% and boys 49%.After the completion of project two rural centres are running with community support where children have started preparing for Level B.
In 2006 under Asian Development Bank's small grant program AIF started Project Pahla Kadam in 13 villages where 359 children have been enrolled in Level A. There are 207 girls and 152 boys who are preparing for their examination to be held in March 2007. For Project Sanjivini IInd phase we will be enrolling girls and boys in the age-group of 10-14 from 30 villages .Madarasas are important learning institutions in Muslim dominated villages. Our strategy is to include them also within the ambit of NIOS so that young children can get Islamic as well as modern education.


Difficulties faced
Competent teachers who can teach as district is educationally very backward.

Socio-religious barriers where education is not a priority.

Poverty as children are forced to work in fields and tea-gardens to add to familyincome.

Linking children to formal schools as there are hardly any government schools with teachers and proper infrastructure.

Girls are married at early age so they are forced to drop-out.

Community support minimal so once the project is over very difficult to sustain from Foundation's resources.
Achievement of Program
Girls' enrolment and pass percentage has improved over two years.

Community members are realizing the need to educate their children.

Those closed communities like Irani community of Kishanganj who do not allow their girls to study have started sending their daughters to OBE centre of AIF.At present 22 girls are preparing for Level A.

Provided employment to educated youth from the villages.

Many NIOS students have joined formal government and private local schools. Some of them have also joined Azad Public School run by Azad India Foundation.
Facts and Figures about Kishanganj » | Kishanganj Tourism » | Irani Basti in Kishanganj »