Home
»
Project Sanjivani
»
Survey Findings
Project Sanjivani - Survey Findings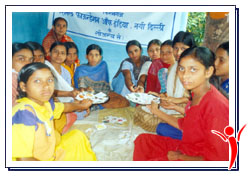 At the end of the 6 months our project coordinator and field workers conducted survey among the girls of NFE centers through simple questionnaire method to assess their level of understanding after completion of modules on health issues.
The questionnaire was structured with tick-mark options of right, wrong and do not know. The questions were explained to the respondents since they are still learning to read and write. We assume that this would have affected about 10% of the responses due of lack of proper understanding of the questions.
The respondents belonged both the age-groups of 10-14 and 15-19 years. The girls of Rasulganj NFE centre showed highest awareness of all the questions whereas girls of other NFE centers showed mixed responses. This survey has given us an idea of where are we lacking in providing information and to redefine our strategy.
Nutrition & Balanced diet - Some part of Menstruation
The survey revealed the following findings
68.1% girls know that Anemia is curable.

39% girls are aware that Anemia is common among the girls and women.

57% girls are unaware of Anemia as a common problem.

65.4% girls know that green leafy vegetables, jaggary are rich source of iron.

30% girls know that blood test is important for detecting Anemia.

55.4% girls are aware that menstruation is not a disease.

86.3% girls now know that one should use clean cloth during menses.

48.1% girls know that it is important to maintain personal hygiene during menses.

35.4% girls know that Menstruation does not mean that their bodies are ready for child bearing. More than 63.6% girls are still unaware of above -mentioned fact.

74.5% girls know that cooked food should be kept in clean and closed utensils.

56.3% girls agree that right food habits keep the body healthy.

80% girls know that it is important to wash hands before and after going to toilet.

61.8% girls know that vegetables and fruits should be washed properly before eating.

63.6% girls are unaware that young girls like them require balanced and nutritious diet for proper growth. Only 30% girls showed awareness.
Facts and Figures about Kishanganj » | Kishanganj Tourism » | Irani Basti in Kishanganj »