Home
»
Rural Employment Programme
Rural Employment Programme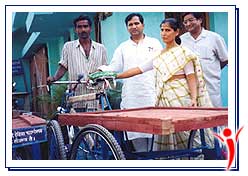 To promote self-employment among the unemployed youth of the district, Azad India Foundation provides interest free loans to set up or upgrade small business or to buy rickshaw and other equipments.
We have given rickshaw-thelas on interest free loans to unemployed rural youths of the villages Baragariya, Goabari and Manirambhitta of the district.
One youth was given tables and chairs to start his business of renting for marriage and village functions. In addition, two youths were given loan to and upgrade their shops. Two women were also given sewing machines to start their own work.
Facts and Figures about Kishanganj » | Kishanganj Tourism » | Irani Basti in Kishanganj »