Home
»
Rural Schools
Rural Schools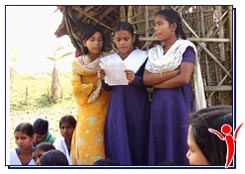 This project supported by Royal Dutch Embassy New Delhi is providing formal education to 500 children in the age group 6-14 in 5 villages who do not go to any school or are school dropouts through nonformal means.
The children are enrolled from the villages. Our target is to encourage girls to join the schools as their education is generally neglected and look down upon.More than 50% of the students are girls who attend the schools regularly.
Nonformal education is being provided under National Open School board. The curriculum and books for the course have been prepared on the basis of blueprints provided by NOS and Bihar Government syllabus at par with any formal school. The certificates are given by the NOS which are valid in India.
Initially we have introduced classes from one to class three. The books and study materials are provided at nominal cost. The teachers are selected from educated youth of the community to provide employment to local youth especially women. These schools are managed by the local village committees comprising of panchayat members, educated and respected members of the society.
The Target Group
The beneficiaries would be approx 500 children between 6-14 years.
The Intervention Area
Damalbari,Chattargach,Powakhali,Thakurganj and Pothia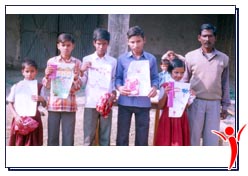 The Objectives to be achieved
The project would help in providing quality education to rural children.

The mothers and guardians would be encouraged to join literacy centers run by Azad India Foundation to get functional literacy. This would instill the value of education among people.

This project would help in increasing the literacy level of the district.

This project would give employment to the rural educated youth especially girls who would work as teachers at the centers.
Donations : You can adopt a child for as small an amount as Rs.500/- and see him/her through a certificate from the National Institute of Open Schooling (NIOS).
Facts and Figures about Kishanganj » | Kishanganj Tourism » | Irani Basti in Kishanganj »