Home
»
Women Empowerment Programmes
Women Empowerment Programmes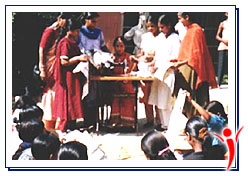 Women have always been marginalized and relegated to the status of subjugated class in the Indian society. Due to lack of specific implementation of plans, local communities especially women have remained outside the scope and benefits of government schemes and programmes.
Women have not actively participated in their emancipation due to their lack of economic independence and illiteracy. There is a need to address the issue by raising the status of women. The key lies in women empowerment through economic self-sufficiency and higher awareness levels on social, political and legal issues through mobilization. There is also a need to recognize and emphasize the diverse roles of women such as reproductive, productive and community management. Women should be organized and strengthened at the grass root level to end their subordination. Azad India Foundation is making an attempt in that direction to make rural women self sufficient through various skill training programmes.
Skill training programme for Women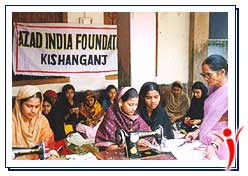 The main aim of this programme is to enhance the quality of life of women through increased knowledge and skills. The Foundation also realized that merely imparting literacy would not be sufficient .The women need vocational training or skills also to uplift their status. They should be able to stand on their feet and provide for their families.
The discussions with women revealed that they are also interested in learning some skill to supplement their household income. They showed interest in learning stitching and tailoring. Foundation opened six vocational training centers on experimental basis. In a very short duration of six months most of the women have become proficient in basic cutting and stitching. The credit goes to the students and the teachers who again from the community are taking tremendous interest and teaching with their full dedication. After successful completion of the course, they will be encouraged to get bank loans to start their own business. AIF has given sewing machines to 2 women from its own resources to start small tailoring unit.
Number of Villages : 4
Name of the Villages
Bharagariya

Maniram Bhitta

Line Mohalla

Rasulganj
Number of Beneficiaries : 125
Employment to Rural Women
Azad India Foundation has provided employment to the 35 rural women who work as literacy teachers and health animators in non-formal centers. This has led to enhance confidence level among them.
Promotion of entrepreneurship among women
The Foundation has provided two non-formal centers of Bharagariya and Maniram Bhitta with plastic chairs and tables to be rented out in the marriages and village functions to bring out the entrepreneurship among women. These women keep the account and share the money among themselves.
Facts and Figures about Kishanganj » | Kishanganj Tourism » | Irani Basti in Kishanganj »