Home
»
Nukkad Natak as a communication strategy
Nukkad Natak as a communication strategy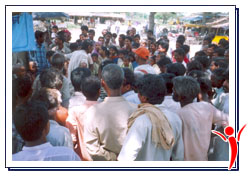 Nukkad Nataks are an important part of Azad India Foundation's communication strategy. These nataks are performed in local dialect Surjapuri to give message to the wider range of audiences. The actors enact two-three stories depicting each issues all interlinked with each other accompanied with music.
The lead actor then asks the audience their reaction or what should have been done in case of early marriage of a girl. These nataks have two-fold advantage as they provide entertainment and thus help in gathering people and putting across message about something like AIDS in a simple way.
Feedback is usually taken during the community meetings and their response is maintained in the registers. Our natak mandli is invited at block level functions like on AIDS awareness day etc which again help in targeting wider population.
The main issues that are addressed are

AIDS awareness

Right age of the marriage and space between the two children

Equal treatment of girls and boys

Balanced diet for the girls

Hygiene and sanitation
Special Day Celebrations
Azad India Foundation celebrates World AIDS Day, International Youth Day, International Women's Day and World Health Day by organizing special programmes and theme based discussions with the target population. The celebration of these days has made people aware of the importance of these days.
It is also a medium through which we try to target maximum number of people. We invite guest speakers like doctors, BDOs and local leaders who have influence among the people to speak on issues related to girls' health and education. The records of the meetings are maintained in the registers.
Project Sanjivini
Fact -Sheet of the Intervention Area
Project Sanjivini Activities
Project Sanjivini Survey Findings


Facts and Figures about Kishanganj » | Kishanganj Tourism » | Irani Basti in Kishanganj »