Home
»
2003-2004 Main Events
Main Events and Programmes organized by Azad India Foundation
A.I.F. Events & Programmes : 2002-03 | 2003-04 | 2004-05 | 2005-06 | 2006-07 | 2007-08 | 2008-09 | 2009-10
2003-2004 Main Events
5th April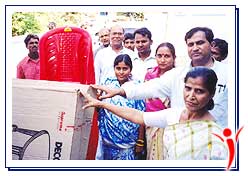 Honorable Minister of Medical Education and Family Planning Dr.Shakil Ahmed gave away rickshaw thelas and sewing machines to unemployed youths and women under Azad India Foundation's interest free loan programme in presence of Chairperson of the Foundation and other important people of the district.
7th September
Azad India Foundation organized a one-day seminar on AIDS - Prevention and Control for the Panchayat representatives of the Thakurganj and Pothia blocks of Kishanganj at Thakurganj.It was inaugurated by Dr.Md.Jawaid Minister of state for Law, Animal Husbandry and Fisheries. The doctors, officials and other important people of the area attended it.
Md. Jawaid, who also happens to be the Treasurer of the Bihar Legislative Forum on HIV\AIDS, spoke on the seriousness of the subject and how important it is that people get aware of the dreaded disease for which there is still no cure. He emphasized on the role of the local elected body in spreading awareness on the virus.
20th September
Azad Public School under Azad India Foundation celebrated its Annual sport day Prize distribution ceremony at Kishanganj. Minister of Building Construction, Mr. Taslimuddin, Minister of Adult Education Mr. V.S Dubey and Minister of State for Animal Husbandry and Law graced the occasion. Honourable Adult Education Minister, Govt of Bihar Mr. V.S Dubey distributed prizes among the winners.
Speaking on the occasion Ministers emphasized on the importance of quality education for building strong and secular nation. Later the students of the school presented a colorful programme. A large number of students and their parents were present who applauded the prizewinners. Many eminent persons of Kishanganj were also present the occasion making it hugely successful.
9th November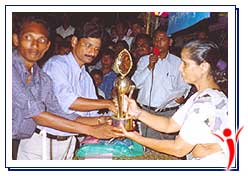 Azad India Foundation was one of the sponsors of Mohammad Hussain Azad Day and Night Football Tournament held in Thakurganj block. This was attended by huge number of people. The winners were given trophy by the chairperson of Azad India Foundation. The main aim behind organizing these tournaments is to promote the local sports talent of the district.
22-23 rd November
Azad India Foundation celebrated National Integration and Communal Harmony days. Many meetings and cultural programmes were organized at various nonformal centers involving the students and community members. A poster competition was organized for the students of Azad Public School.
1st December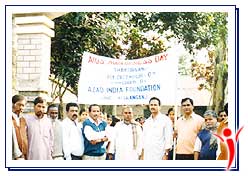 Azad India Foundation celebrated AIDS awareness day at Thakurganj.A rally with banners was taken out by the team of the Foundation in which a large number of school students, teachers and doctors of Thakurganj hospital participated. They also distributed pamphlets to the people to create awareness about this dreaded disease. Meetings were also conducted at nonformal centers to inform people about AIDS.
6th December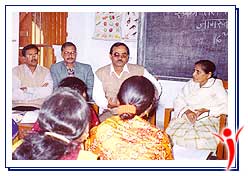 Azad India Foundation organized one-day seminar on formation and need of self help group among rural women for the women teachers of nonformal centers and staff of the Foundation. It was addressed by Mr Shakeel Akhtar NABARD,Mr Ramesh Upadhaya ,Area manager Kosi Gramin Bank and Mr.Prem Chand Singh ,Manager SBI.
27th December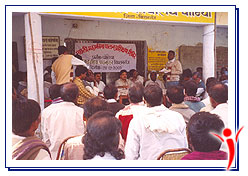 Azad India Foundation organized one-day seminar on methods and viability of Prawn cultivation for the benefit of local farmers of Pothia block. The officials of Fisheries dept, Govt of Bihar gave valuable information. It was attended by over 100 farmers of Thakurganj and Pothia block.
20th December
Chiarperson Mrs Sayeeda Banu and team of Azad India Foundation distributed blankets, shawls and clothes among the victims of fire accidents in the village Attiabari, Panchayat: Chhatergach and village Bhakhotoli,Panchayat:Bhogdawar.
12th January
Azad India Foundation celebrated national Youth Day with special meeting on adolescent health at village Bharagriya. The topic was Anemia among the girl child. Mukhia and teachers of local school attended it. About 100 girls and their parents from NFE centers of Haldibari, Jalalpur Muslim and Hindu tola and Purenderpur attended the meeting. Health animator of Bharagariya and staff of Foundation gave them information about causes and prevention of Anemia.
8th March
International Women's Day programme was held at Chichwabari primary school where community members from near by villages participated. The girl students from NFE centers of Maniram Bhita, Bhagkharna, Bhogdawar presented songs on importance of education and health. Block Members Chitradevi and Md.Jabbar in their speeches told people to give equal importance to girl and boy child in providing education and care. They also emphasized on the importance of taking special care of adolescent girls health because they are future mothers.
A.I.F. Events & Programmes : 2002-03 | 2003-04 | 2004-05 | 2005-06 | 2006-07 | 2007-08 | 2008-09 | 2009-10
Facts and Figures about Kishanganj » | Kishanganj Tourism » | Irani Basti in Kishanganj »