Home
»
2007-2008 Main Events
Main Events and Programmes organized by Azad India Foundation
A.I.F. Events & Programmes : 2002-03 | 2003-04 | 2004-05 | 2005-06 | 2006-07 | 2007-08 | 2008-09 | 2009-10
2007-2008 Main Events
Two -day training for Project team of Women Empowerment program in May
Azad India Foundation organized two-days residential training for the project team at the premises of Azad Public School.Mr Shamim Ahmad was invited as the trainer who gave valuable input to the project team regarding nonformal education.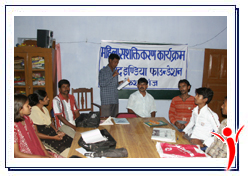 Visit of Chairperson to the NFE centres in Kishanganj block
Mrs Sayeeda Banu, chairperson of Azad India Foundation visited NFE centres under project supported by Royal Dutch Embassy. She interacted with the children and project team.
One day workshop with Islamic religious leaders
Azad India Foundation organized one day workshop with Maulanas and Maulavis on HIV/AIDS awareness at a local madarsa.


Khadi Gram Commission certificate distribution at Chattargach community Hall on 25th September
Azad India Foundation organized certificate distribution program at Chattargach community hall where SHG members from 5 groups from near by villages were given certificates from KVIC on successful completion of their training program on Agarbatti making. The branch manager of Kosi Grameen Bank was the chief guest who gave away the certificates to the women and gave valuable information on setting up small businesses and getting loan from the bank. The PRI members from Chattergach Panchayat were also present on the occasion.
Visit of Mr M.V Kumar from INP+ Pune on 26- 27th September
Project Officer Mr M.V Kumar from INP+ Pune visited Azad India Foundation for two days in the month of September. He visited several Madarasas and interacted with Islamic religious leaders on HIV/AIDS. He also gave away National Open School certificates to the successful children from NFE centres of Paswantola, Farimgola, and Patharbasti from Kishanganj block.


Jewellery making training program from 9th to 18th December
Azad India Foundation organized 10 days training program on jewellery making for the 25 SHG members of 10 villages under Kishanganj block. The trainers were invited from Nectar Foundation of India, New Delhi who trained women in artificial jewellery making, and pricing, designing and other aspects of the trade.
A.I.F. Events & Programmes : 2002-03 | 2003-04 | 2004-05 | 2005-06 | 2006-07 | 2007-08 | 2008-09 | 2009-10
Facts and Figures about Kishanganj » | Kishanganj Tourism » | Irani Basti in Kishanganj »