Home
»
2006-2007 Main Events
Main Events and Programmes organized by Azad India Foundation
A.I.F. Events & Programmes : 2002-03 | 2003-04 | 2004-05 | 2005-06 | 2006-07 | 2007-08 | 2008-09 | 2009-10
Sensitization of Maulanas and Maulavis on HIV/AIDS in Kishanganj district
A report
This innovative and yet challenging project was initiated in the month of September for one year duration involving sensitization of religious leaders of two blocks Pothia and Kishanganj of Kishanganj district on the issues of HIV/AIDS. Bihar State Aids Control Society (BSACS) has declared Kishanganj district a "high risk" zone in view of high number of HIV positive cases. It is also a predominantly minority district with large number of madarasas in villages.
Maulanas and Maulavis are respected in villages and people usually look to them for advice .They have great influence on people in their day to day lives. This is a very important and influential segment of society whose support is crucial for combating the disease. So far they are not taken in confidence by any Govt agency for promoting HIV awareness in the district. As it is a very traditional Muslim society, men are the decision makers and the opinion of women usually does not count. Read Full Report
Annual Report – Azad India Foundation -2006-07
Azad India Foundation
Beginning with a small group of committed people, Azad India Foundation was formed in the year 1998 attempting to transform its beliefs into reality. It is an organization based in Kishanganj district of Bihar. It got formally registered in 2001. We are working for female literacy, formal education for children, nonformal education, rural employment, income generating skills, SHG formation, community health and awareness programmes on various social issues.
The activities reach out to poor and marginalized women, adolescents and disadvantaged and marginalized children from rural and urban areas of Kishanganj district. AIF's journey owes much to the unstinting support of a large number of friends, supporters and well-wishers. Read Full Report
HIV AIDs Workshop
Workshop on HIV/AIDS Awareness & Prevention: A Workplace Issue organized at Patna on 30, 31 May and 1st June. This workshop was organized by Azad India Foundation and MASSES in collaboration with Women Work Health Asia Initiative (WWHAI), Society for Working Life (SWL), Embassy of Finland and Trade Unions. The main goal of the workshop was to promote sensitivity and awareness about HIV/AIDS among women and workers in the community, organized and unorganized sectors. The workshop was inaugurated by Shri Chandra Mohan Ray Hon'ble Minister of Health Govt of Bihar.
He said that the spreading HIV/AIDS awareness is the biggest challenge of the present government. This has to be tackled by NGOs, Government, trade unions and all the other agencies together. The three day sessions on technical, ethical,medical and legal HIV/AIDS issues were conducted by Dr.Gitanjali Kumari (BSACS), Dr Diwakar Tijaswi (Director RATNEI), Mr. Ashok Priyadarshi Advocate, Dr.Md Jawaid Former Minister of State, Prof Arif Ali Head Dept of Bio-Technology,Jamia Millia Islamiya.The workshop also saw presentations by Mr Gautam Dey (Bihar Voluntary Health Association) on role of BVHA in HIV related activities, Mr. Amrendra Prasad and Mr. Nand Kumar Chaube on Yoga and HIV/AIDS. Mr. Kailash Bhagat member of Bihar network for people living with HIV/AIDS and HIV + himself shared his experiences with the participants.
The field visit was a very important component of the workshop as it provided an opportunity to the participants to interact with the workers in both organized and unorganized sectors. The participants were taken to three different organizations- Automobile Union, Maurya hotel Union and Charkha Samiti to interact with the workers on the issues related to the HIV/AIDS. Dr U.C Tripathi Director State Institute of Health and Family Welfare Patna was the chief guest at the Valedictory Session. He distributed certificates to the participants. In his speech he said that this workshop on HIV/AIDS awareness for the NGO workers and trade union members would very useful when they will work at grass-root level. The workshop ended with a positive note with NGOS and Trade Unions agreeing to work together. Read Full Report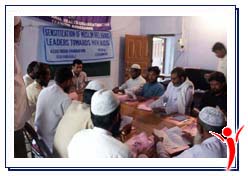 Sensitizing the local Religious leaders (Maulavis and Madarasa teachers) towards HIV/AIDS: Workshop conducted at Kishanganj on 12-13 September
Azad India Foundation organized two days residential training for Maulanas and Maulavis from two blocks of Pothia and Kishanganj on 12-13 September (2006) at Kishanganj on HIV/AIDS awareness. The training was conducted by Dr Diwakar Tejaswi who is the Medical Director of RATNEI (Regional AIDS Training Centre and Network in India, Patna).He gave comprehensive information about the spread and growth of HIV virus.
According to him first case of HIV was detected in 1992 in Bihar. There are 70 reported deaths from AIDS in the state. However most people die from opportunistic infections like T.B, viral infections and Hepatitis B which makes the body weak.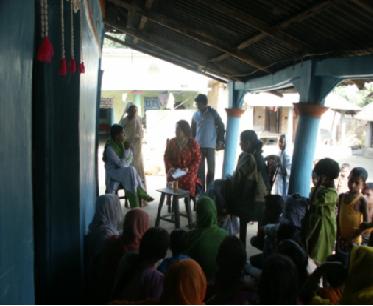 He gave information about the spread, causes and symptoms of HIV virus. He said that two ART centers are functional at Patna and Muzzafarpur.There are 63 VCTC centres, 44 PPTC centres and 51 STD clinics .A community care centre is functioning at Nazareth Hospital Mokama.
A state of art model blood bank is being opened at Patna.Dr Diwakar also cleared many myths and misconceptions and doubts of the participants. The training was conducted through interaction between the resource person and the participants.Azad India Foundation has translated and prepared pamphlets and brochures in Urdu which will be used by the Maulanas to spread awareness in the community.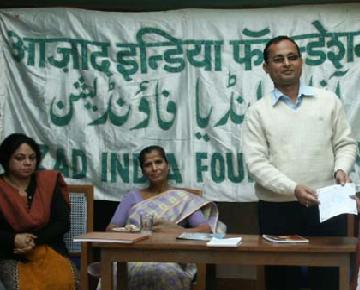 Mrs Swapna Majumdar, senior journalist visited Azad India Foundation on 15-16th December to document best practices of Project Sanjivini( NFI-Packard Foundation).She interacted with adolescent girls groups and members of SHG at village Meerbhitta
Azad India Foundation organized certificate distribution function to the successful students of Mohidunpur NFE centre who cleared class-III of National Open School examination through open basic education.
Mr.Narayan Pandey deputy magistrate of Kishanganj was the chief guest on the occasion.Mrs Swapana Majumdar,senior journalist,Mrs Sayeeda Banu chairperson AIF and Mrs Usha Sharan administrator APS were also present on the occasion.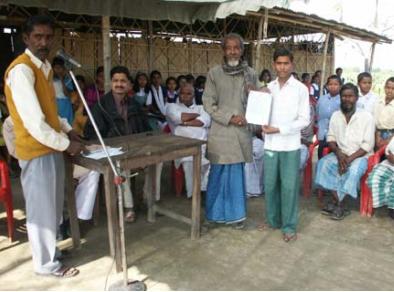 Azad India Foundation organized certificate distribution function for the successful students of Damalbari village who cleared class-III of National Open School examination through open basic education.Dr Jawaid Azad Ex-MLA and Minister distributed the certificates to 40 successful children. Many important people including Asghari Begum Mukhia and parents were present on the occasion.
A.I.F. Events & Programmes : 2002-03 | 2003-04 | 2004-05 | 2005-06 | 2006-07 | 2007-08 | 2008-09 | 2009-10
Facts and Figures about Kishanganj » | Kishanganj Tourism » | Irani Basti in Kishanganj »