Home
»
2004-2005 Main Events

Kishanganj shows why Lalu lost Bihar
Main Events and Programmes organized by Azad India Foundation
A.I.F. Events & Programmes : 2002-03 | 2003-04 | 2004-05 | 2005-06 | 2006-07 | 2007-08 | 2008-09 | 2009-10
2004-2005 Main Events
10th July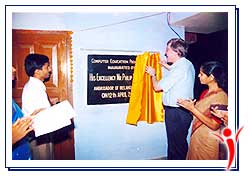 Azad Public School celebrated its annual day. Irish Ambassador to India His Excellency Mr.Philips McDonagh was the chief guest of the occasion. He also inaugurated computer center at Azad Public School established with the help of Irish Aid. He appreciated the efforts of Azad India Foundation's work for the promotion of education and literacy. In the afternoon he visited the Nonformal center of Rasulganj where children welcomed him with songs and presented him small gifts.
13th April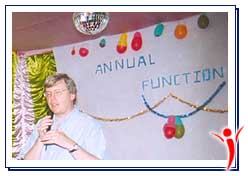 His Excellency Mr. Philips McDonagh Irish Ambassador to India visited NFE center of Simalbari. There he spent time with the local children and took part in their local dance. Later on the way to airport he stopped at the NFE center of Bharagriya where he distributed certificates to 21 girls and women who had completed training in basic cutting and stitching run by AIF.
1st August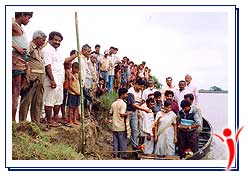 Azad India Foundation gave away three boats to flood prone villages of Powakhali Panchayat to C.O of Thakurganj and Pothia in a simple function. These boats would be used at River Pabna,River Mechi and River Mahananda.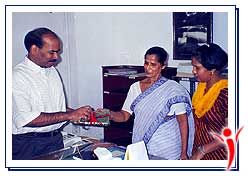 The D.M of Kishanganj Mr. Senthil Kumar released the book series Udaan edited by Mrs.Yuman Hussain Field Director of AIF at his office in presence of journalists and newspersons. These books are for the children who are studying at Open Basic Education centers run AIF for National Open School's class three levels. The books are written in simple language for Maths, Hindi, Social Studies and Science.
14th August
Azad India Foundation invited Mr.Senthil Kumar to give away certificates in basic stitching and tailoring to the students of the skill training centers run by Azad India Foundation . On the occasion 21 girls and women of Rasulganj and Dhobipatti localities were given certificates.
8th September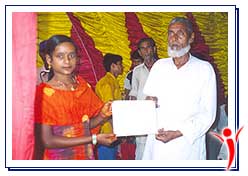 On the occasion of International Literacy day Azad India Foundation organized a function at the Middle School of Kaliakasbaganj where Block Officer of Pothia Mr.Arun Kumar gave away certificates of merit to the successful learners. Total 77 women and girls were given certificates of villages Bharagariya, Maniram Bhitta, Bhogdawar, JalalpurHindutola and Purendarpur.
2nd October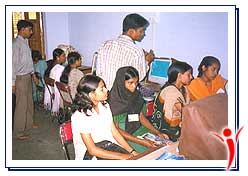 Azad India Foundation has started free short-term basic computer courses for school and college going boys and girls belonging to poor sections of the society. District Literacy Officer Mr.Nasiruddin inaugurated this programme in the presence of large number of students and chairperson Mrs.Sayeeda Banu AIF.
10th October
Azad India Foundation organized football tournament at Dorachehi football ground under Ghatal panchayat Thakurganj Block. Many village level teams took part in the tournament. The final was played between Thakurganj Powerhouse team and Kharna football team.The winners and runners-up were given trophy and prizes by Mrs.Sayeeda Banu,Chairperson of Azad India Foundation.
15-20th October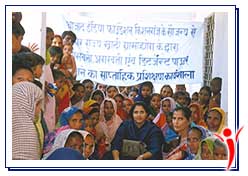 Azad India Foundation organized training in agarbatti, candle and detergent making for women of three Self Help Groups of Powakhali Panchayat. The trainers were invited from Khadi and Village Gram Commission, Patna.
19th October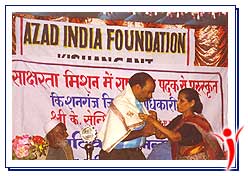 Azad India Foundation organized a function to facilitate Mr.Senthil Kumar D.M of Kishanganj for receiving Satyen Mitra Memorial Literacy award. Padamshri Mr. Sayyed Hasan of Insaan School was the chief guest of the occasion.Mr.Sayyed Hasan presented the souvenir to Mr.Senthil Kumar on behalf of Azad India Foundation. The chairperson Mrs.Sayeeda Banu presented shawls to Mr. Sayyed Hasan,Mr .SenthilKumar and Mr.Nasiruddin.
1st December
World AIDS Day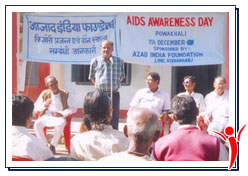 AIF celebrated AIDS awareness day on 1 December 2004 at block headquarters of Pothia and Thakurganj.Meetings on AIDS awareness were conducted at both the places where BDO, BEO, doctors of referral hospital, local R.M.Ps, panchayat members and community members attended in large numbers.Nukkad nataks by the local natak mandli were performed at both the places.
29th December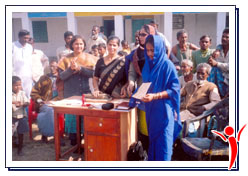 The chairperson of Azad India Foundation Mrs. Sayeeda Banu distributed certificates to the women of three SHGs NaiRaha, Mohammadiya and Islamiya for successfully completing their training programme in candle- making, detergent making and agarbatti- making. These trainings were conducted by resource persons of Khadi Gram Commission; Patna.The programme was attended by the Powakhali panchayat members and block level officials.
12th January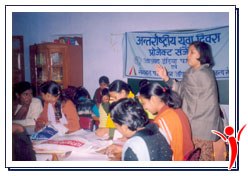 International Youth Day
International Youth Day was celebrated on 12th January 2005 at the premises of Azad Public School Kishanganj.On this occasion a drawing competition was organized for the participants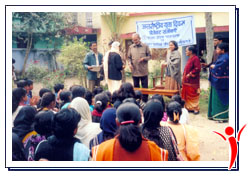 in which 50 girls belonging to two age-groups of 10-14 and 15 and above participated. The prizes were given by Mr.Farhatullah the treasurer of Azad India Foundation.
17th January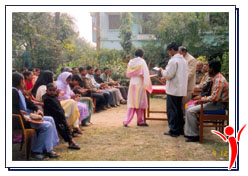 Azad India Foundation organized certificate distribution to its first batch of basic computer course students. Prof.Umesh Nandan Sinha of Marwari College was the chief guest who awarded the certificates to 35 girls and 11 boys. He also spoke on the occasion congratulating the students and lauding the efforts of Azad India Foundation to provide free computer literacy to poor and needy students.Mrs.Yuman Hussain, Executive Director, Mr.Amit Sinha Computer Instructor and a large number of students were present.
2nd February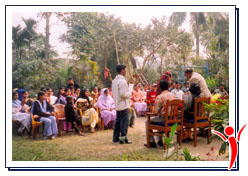 Dr.A.K.Tripathi, Asstt.Regional Director IGNOU, gave away the certificates to 29 girls of Rasulganj Nonformal Education Centre for successfully completing one year course in basic stitching and cutting. The programme was held at the premises of Azad Public School. Mrs.Yuman Hussain, Executive Director, Mr.Pervez Raza, Project Coordinator and other staff of Azad India Foundation were present on the occasion.
8th March
International Women's Day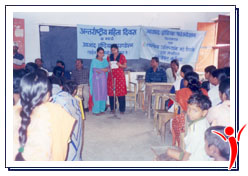 A workshop was conducted at Chattargach high school on 8th March 2005 to mark the International Women's Day. It was attended by teachers of the school, women ward and panchayat members, marketing chairman and professors of M.H.Azad National College. They addressed the high school students and students of NFE centers on women empowerment and importance of girls' health and education. The meeting ended with nukkad natak performance by the local natak mandli.
A.I.F. Events & Programmes : 2002-03 | 2003-04 | 2004-05 | 2005-06 | 2006-07 | 2007-08 | 2008-09 | 2009-10
Facts and Figures about Kishanganj » | Kishanganj Tourism » | Irani Basti in Kishanganj »